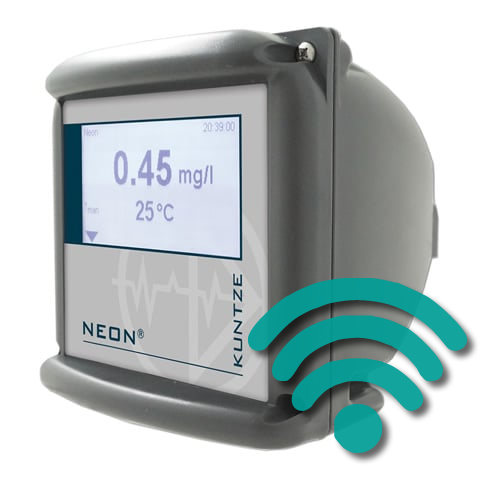 Introducing the Kuntze Neon Controller system. . .
Neon® is a leading edge measuring and control instrument. Its range of functions can be tailored according to customers' applications.
It contains inputs for measurements and temperature, one digital input and an alarm relay. Various add-ons are available to expand the functionality as well as wall mounted or panel mounted housing. Please see below for more info.
Potentiostatic Measurement
Gold Electrodes on Disinfection Sensor
Flow Control Across Sensors
Automatic Sensor Cleaning ASR®
User Friendly Touch Screen Menu
Backlit LCD Display
8 Relay Outputs
pH & Temperature Compensation
IP65 Enclosure
Operator Access Level Codes
Event Log – Stores 100 Events
Innovative Design 
Selectable Disinfection Ranges

SD Card Load & Save Feature

Three Dosing Modes:
– Standard Operation
– Eco Mode
– Custom Operation

Pump Controller Options:
– On / Off With Adjustable Hysteresis
– Pulse-Pause, Pulse Frequency or Continuous with P/PI/PID Control
– 3 Point Controller with & without PositionFeedback
 Kuntze have over 70 years of experience and knowledge of manufacturing instrumentation and sensors. 
ASR® Automatic Sensor Cleaning
ASR® is the most effective way to clean the electrode surfaces of the disinfection sensor and maintain the integrity of the measurement.
* ASR® keeps the electrode surfaces automatically clean and reduces maintenance efforts
* ASR ® is available for measurement of Free Chlorine, Chlorine Dioxide, Ozone and Hydrogen Peroxide
* No manual cleaning
* No refill of chemical or physical agents
* Massively reduced calibration demand
Flowman can monitor your water quality at any time, from any place, by using the Kuntze Cloud Connect® system. This can not only save you a considerable amount in callout charges, but means that your facility is always being monitored by professionals who can take steps to remedy problems as and when they appear.